Hotel in the Elbe Sandstone Mountains
Active recreation in Hotel Grundmühle
Our family-run hotel is situated in the heart of Saxon Switzerland, the German part of the Elbe Sandstone Mountains. You can find us in Krippen, the district of Bad Schandau left of the Elbe. This former wood and stone mill is idyllically nestled between the woods and the rippling river Krippenbach, directly on the famous Malerweg (Painter's Trail). With us, you are far away from the stresses of hectic living.
The unique natural landscape of the Elbe Sandstone Mountains assures you peace and relaxation but also variety and unforgettable experiences. It enchants our guests (and us!) everyday anew.

We look forward to seeing you.

Your hosts, Annegret Besser & Birk Tradel
Hotel with breakfast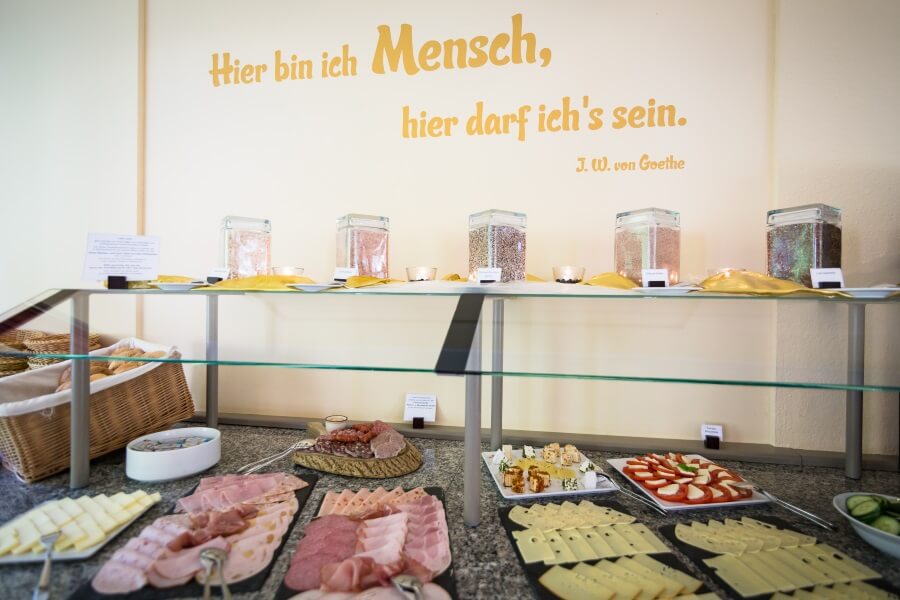 Hotel Grundmühle in Bad Schandau is a bed-and-breakfast hotel. Besides lodging, a lavish breakfast is served. You begin your day in the Elbe Sandstone Mountains on top form. Enjoy the diverse selection and regional products. Fresh bread and bread rolls, coffee specialities, a large selection of teas as well as sweet and savoury dishes provide plenty of variety.
You can visit a restaurant nearby or return to the hotel to enjoy a drink in our small hotel bar while reviewing your experiences of the day.
Hotel Grundmühle in Bad Schandau
History of the house
The first known reference to the "Grundmühle" was recorded in 1627. The mill was named after its location in Krippengrund and was operated initially as a saw and grain mill. In the 1880s, the sawing of wood was discontinued and stone cutting began. This was mostly sandstone from Saxon Switzerland.
A major fire destroyed the works completely in the summer of 1945. The SDAG "Wismut" took over the ruined property in 1955 and converted it into a holiday home for the recreation of its staff. The lodge was then bought by the "Elektrochemisches Werk Bitterfeld". In 1992, a tourism association took over the property.
After intensive reconstruction, the Grundmühle was converted into a hotel. The "Grundmühle" has been owned by the Besser/Tradel family since 2012. The long history of the house has left its mark in the valuable cross vaulted ceiling of the "Mühlenstube" and a millstone that is part of the sundial at the entrance.
Another millstone serves as a table in the beer garden, and you also find a splendid block of sandstone and a processed granite block with traces of cutting..